The Ministry of Health has imposed an age limit and revised academic requirements for new nursing students.
Starting in May 2019, applicants for nurse training at government hospitals must have passed the required minimum five O' Level passes in one sitting, and must be below the age of 30, according to a ministry circular seen by ZimLive.
Presently, the requirement was merely that applicants must have obtained 5 O' Level passes including Mathematics, English and a Science subject.
Hospitals currently receive thousands of applications for every intake, although they only have places for a few hundred trainees. A lot of the applicants would have passed the subjects after more than one sitting, particularly for Mathematics.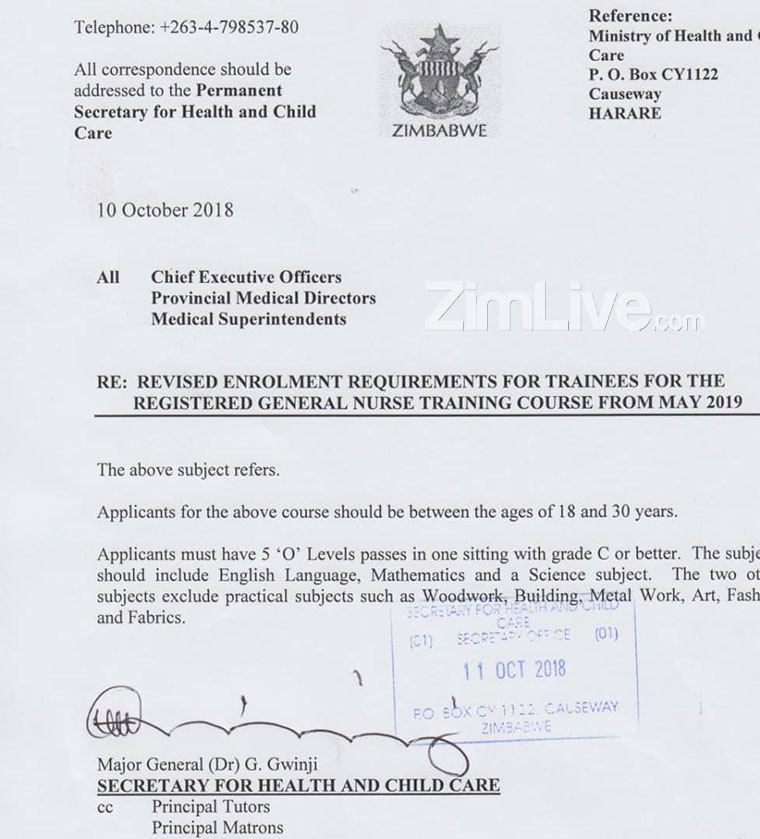 Health Ministry Permanent Secretary Gerald Gwinji, in a circular dated October 10 to medical superintendents at government hospitals which perform nurse training, said the new requirements will kick-in during the next intake in 2019.
"Applicants for Registered General Nurse Training should be between the ages of 18 and 30. Applicants must have 5 O' Levels passes in one sitting with Grace C or better. The subjects should include English Language, Mathematics and a Science subject. The two other subjects exclude Woodwork, Building, Metalwork, Art and Fashion & Fabrics."
ZimLive