Malawi Election Results: Incumbent overtakes opposition (76% official results)
Malawi's electoral commission (MEC) chief, Dr. Jane Ansah has called upon stakeholders including political parties to refrain from announcing premature results, pledging that the commission will start official declaration of results as soon as 20% of votes cast have been tallied.
Citizens went to the polls on Tuesday, casting their votes to elect a president, members of parliament and local government councillors.
President Peter Mutharika is seeking a second term, and is being challenged by his deputy, Saulos Chilima, and the leader of the country's biggest opposition party, Lazarus Chakwera.
In this article, we provide updates from the time polls opened on Tuesday morning, to the time official results will be announced, which Ansah said will be within 8 days.
Incumbent overtakes opposition
Opposition warns against rigging
Results collation ongoing across the country
Commission warns against premature results
Voting closes, counting underway
Election anomalies registered
Main candidates profiles, and where they cast their votes
Electoral commission explains Chilima's delayed voting
Malawi's election in numbers
Chilima's 40-minute wait to cast his vote
Election observers project high voter turnout
Malawians share voting experience online
Polls open
Why this is a high-stakes election
PRELIMINARY STATEMENT:African Union Election Observation Mission to the 2019 Tripartite Elections in the Republic of Malawi
Incumbent overtakes opposition candidate with 30% of vote count left
The Malawi Electoral Commission, MEC, as at midday Thursday said it had so far received 75.81% of all results from polling stations.
So far: Incumbent president Peter Mutharika (DPP) had 1,436,877 (40.49%). Lazarus Chakwera (MCP) polled 1,257,853 (35.44%) with vice-president Saulos Chilima (UTM) having 651,124 (19.35%).
Collation restarted 10:00 local time after it was suspended on Wednesday evening. At the time the main opposition candidate Lazarus Chakwera of the Malawi Congress Party, MCP, was in the lead with 30% of vote count.
Opposition leader warns against rigging
Malawi's opposition leader Lazarus Chakwera on Wednesday warned against attempts to rig the country's election, claiming he was clearly leading in results so far tallied.
Early official results showed President Peter Mutharika and Chakwera were equal on about 37 percent of the vote with about one-third of polling centres counted after Tuesday's election.
"So far the message is clear, we know that we have a tremendous lead," he told a news conference at his house in Blantyre.
"No one is going to rig this election. Justice is going to prevail."
Chakwera said his Malawi Congress Party (MCP) was conducting its own count, even though local observers earlier declared the election largely free and fair.
"Those in power, I know you, you're trying to tamper with elections," Chakwera said, who came a narrow second in the 2014 election.
"I warn you, you will soon face the long arm of the law".
Chakwera has campaigned on an anti-graft platform and has been credited with reviving the MCP.
Two months ago, he secured the high-profile support of former president Joyce Banda.
Main opposition candidate in slight lead
The main opposition candidate in Malawi has taken a slight lead as the elections body continues collating and announcing results from Tuesday's election – specifically with the presidential race.
The elections body had as at Wednesday morning officially declared 35.67% of results putting Lazarus Chakwera in the lead with 533,217 (37.65%) whiles his closest contender and incumbent Peter Arthur Mutharika came a close second with 524,247 (37.01%).
In a distant third place is Saulos Chilima, Mutharika's estranged vice who formed a breakaway party to contest for the top seat. He had garnered 293,978 (20.76%).
Given that Malawi operates a first past the post system, whoever comes top irrespective of the percentage will be declared winner.
Analysts hold that its early days yet as results are awaited from other parts of the country, only then can firm projections be made as to a likely winner of the presidential race.
Africa's female election chiefs: Ethiopia, Zimbabwe, Ghana, Malawi
With results received so far: 1,748 out of 5,002 centres:
Lazarus Chakwera (MCP): 533,217 (37.65%)
Saulos Chilima (UTM): 293,978 (20.76%)
Peter Mutharika (DPP): 524,247 (37.01%)
Atupele Muluzi (UDF): 48,766 (3.44%
Meanwhile elections chief Jane Ansah has stressed the need for parties to desist from announcing unofficial results. "Political leaders shouldn't overstep commission's authority.
"The mandate to announce results remains solely with MEC. The commission has managed to deliver peaceful and fair elections & is even capable of delivering credible results," she is quoted to have said.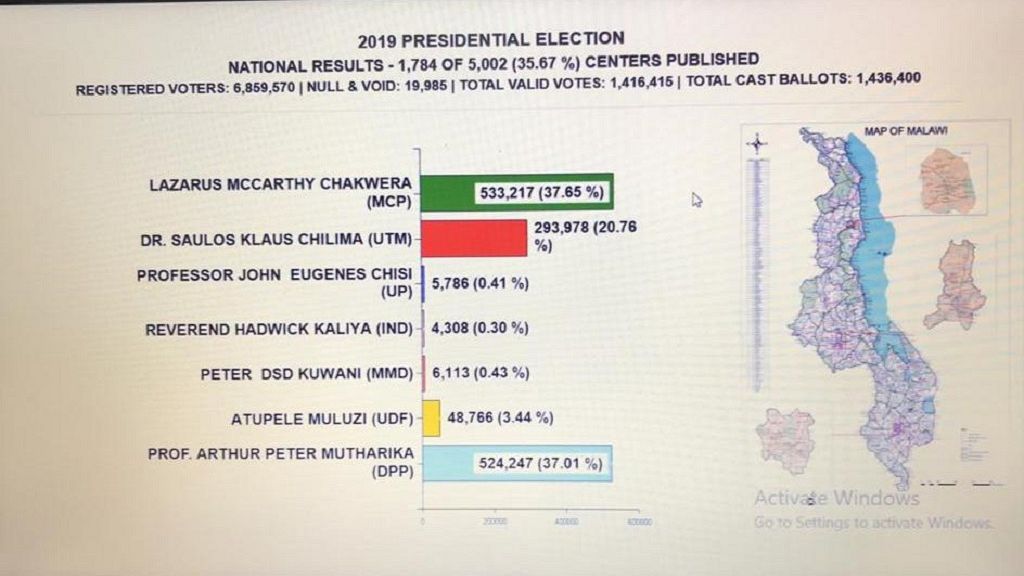 Commission warns against premature results
Malawi's electoral commission on Wednesday addressed journalists, election observers and political party agents on Wednesday morning, warning against trusting the authenticity of results published on social media.
Commission chief Dr. Jane Ansah reassured the nation that a backup plan had been put in place to deal with any technical hitches that might be encountered, as the country uses the electronic system of tallying results, for the first time.
''The first result was received at midnight but have received only partial results from polling centers. Results have been slow because we're experiencing some problem in result transmission.''
''Security at all centres is very high. Anyone trying to tamper with results transmission I caution them to refrain. Both the police defense force are on high alert,'' Dr. Ansah added.
Under the electronic tallying system, results are canned and sent to the national tallying centre in Blantyre, using specially designed forms that have several security features. The commission also has auditors who will confirm figures before they are released and displayed on giant screens at the national tally center.
Polls close, vote counting underway
See EU EOM Malawi 2019's other Tweets
"I have a strong feeling that the choice I made will carry the day," said Tima Nyirongo, 31, a mother of two who voted at a polling station in Blantyre, the southern African country's commercial capital.
Election anomalies registered
While the voting process has so far been peaceful and relatively smooth, there have been a few anomalies that have been registered and acknowledged by the electoral authorities.
Other than the widely reported incident of vice president Chilima's delayed voting, there have also been issues of misplaced ballot papers and voter's registers.
The electoral commission said Chilima's name was transferred from his official polling station, while voting is reported to have started late at the Kanyenjele polling station after it was supplied with a wrong voter's register.
There have also been reports of misplaced Mangochi ballot papers being found at Naotcha centre in Blantyre, while Blantyre city centre Matope Ward ballot papers were found within Dziwe Balaka south constituency ballots.
Main contenders cast their votes
President Peter Mutharika is seeking a second and final term, but faces a tough challenge from his deputy, Saulos Chilima and other opposition leaders.
Mutharika's term has been dominated by food shortages, power outages and ballooning external debt, which have damaged his popularity, as well as concerns about his health.
Mutharika at a glance
78 years old
became president in 2014
his elder brother Bingu wa Mutharika was also president and died after having a heart attack while in office.
is a constitutional expert and former law professor at Washington University
previously served as a minister of justice, for education, science and technology, and as minister of foreign affairs
"I am happy that I have voted," said Mutharika, 78, leader of the ruling Democratic Progressive Party (DPP) after leaving a polling station in Thyolo town outside Blantyre.
"There are very long lines but I am encouraging everyone to vote because it is the people who will decide."